Pour ne rien manquer de l'actualité culturelle, abonnez-vous à notre newsletter
AFEL x Christel Saneh
Art
Sur l'initiative de Nadine Mokdessi et de l'Agenda Culturel et avec la collaboration des deux associées de la compagnie Silverdeer, Caline Jilwan et Carla Khater ainsi que de Maria Fiani et Gigi Massaad, a été lancée l'idée de mettre en relation un ou une artiste et une ONG pour offrir à ces dernières une visibilité supplémentaire en ces temps difficiles. Associer l'Art à l'humanitaire c'est mélanger des sensibilités venant de différents horizons pour renforcer le message universel de solidarité.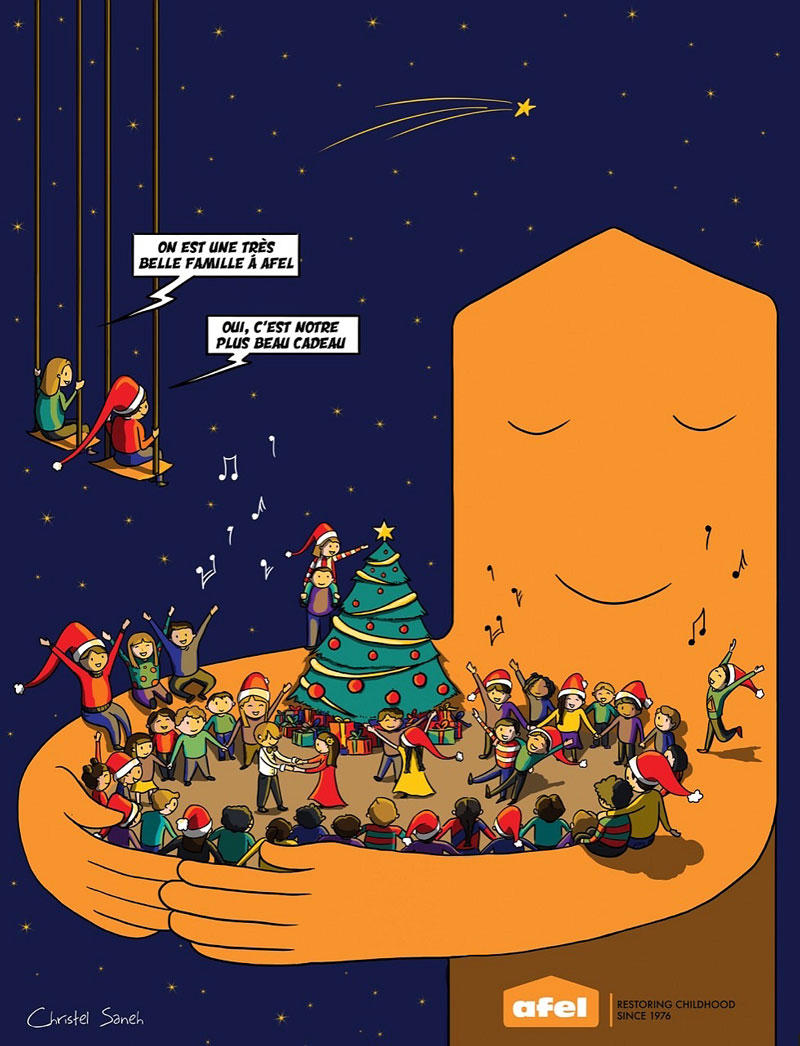 Founded in 1976, AFEL is a non-political and non-confessional NGO recognized by the Lebanese State by virtue of the 1977 Decree No. 97 AD.

Afel has since taken care of more than 5,000 children, enhancing the daily lives of countless people and giving entire generations the means to become autonomous and responsible adults through a unique holistic approach which incorporates the family in the child's rehabilitation process.
Afel's mission is to provide care and protection to children in need facing abuse, learning and communication difficulties by tending to their educational development and vocational training as well as equipping them with the tools to protect themselves, become independent and build resilience, thereby facilitating their insertion into society.
Afel's Activities and Projects
Educational, psychological and social support
During the school year 2017-2018, thanks to donations from friends and partners, Afel took care of 524 children and accomplished many projects to improve their situation in Lebanon. Those project where as follows:
- 35 children were welcomed at Jouar boarding house: these were children subject to abuse and mistreatment at home and staying with their families threatened their lives and development. At Jouar, they benefit from psychological and educational care. 14 of those children were sent to a special remedial school at Jouar.
- 72 children attended a special remedial school at Burj Hammoud, a popular suburb of Beirut.
- 79 children benefited from after-school support and a hot meal at our Sin El Fil centre. This centre plays a crucial role in child delinquency and labor prevention.
- 162 children received school aid services (scholarship) and psychological and social support at home
- 176 brothers and sisters of children attending the centres were supported by social workers and psychologists, throughout the year.
* In addition 270 children received school aid service (scholarship) as part of Afel Family Assistance Service
The remedial schools at Jouar and Burj Hammoud are accredited by the government and are the only free of charge schools in Lebanon. Both schools provide special educational, psychological, and relational care, as well as speech therapy for children who are unable to attend ordinary schools.
2. Summer Camps
140 children participated in Afel's summer camps in Jouar and Sin el Fil during the months of July and August 2018.
Afel today is a national reference in child protection (CP)
The establishment of Afel by the founders in 1976 constituted a highly significant event in our current national social infrastructure. As an expert in case management, Afel provides expertise on abused children and family needs along with the Ministry of Social Affairs.
Afel is a member of World Family Organisation (WFO) and International Society for Prevention of Child Abuse and Neglect (IPSCAN). Afel has also joined l'Association francophone des intervenants auprès des familles séparées (AIFI).
Afel has been awarded the 2018 Conflict Prevention and Peace Prize in Lebanon by the Ghazal Foundation for Education, Research and Peace in Lebanon.
N.B. Both remedial schools at Jouar and Burj Hammoud are accredited by the government and provide a specialized educational, psychological, and relational follow-up as well as speech therapy to children who are unable to pursue the classic school program.
Address:
Youssef Karam Str.
P.O. Box 55-273
Sin el Fil
Lebanon
Tel: +9611481690
Email: info@afel.org.lb
Website: www.afel.org.lb
Facebook: @afel.liban
Afel managing board includes:
Mr. André Wardé, President
Mr. Michel Mourad, Vice President
Ms Mary Hillal, Secretary
Mr. Jean Hajjar, Treasurer
Ms Amal Farhat Bassil, General Director
Address:
Youssef Karam Str.
P.O. Box 55-273
Sin el Fil
Lebanon
Tel: +9611481690
Email: info@afel.org.lb
Christel, 25 ans, née au Liban, je me définis en temps qu'athlète, journaliste de sport et illustratrice. Ma passion pour le sport m'a pris dans 29 pays différents jusqu'à maintenant et m'a ouvert beaucoup d'opportunités comme couvrir les Jeux Olympiques de Rio 2016 et récemment les Championnat du Monde en Athlétisme. Mon but a toujours été de combiner ces trois passions et le résultat s'est traduit en une bande dessinée sur 3 femmes arabes qui ont marqué l'histoire des Jeux Olympiques en tant que projet de master (accessible online www.christelsaneh.com/flipbook) et un jeu de société conçus avec le Comité Internationale Olympique, « The Torch Race » pour but de promouvoir l'Olympisme et les Jeux Olympiques à travers le jeu au Liban. Pour moi l'illustration est une écriture visuelle qui transmet ce que la parole ne peut transmettre.
Instagram: @christelsaneh