Pour ne rien manquer de l'actualité culturelle, abonnez-vous à notre newsletter
THE CARNIVAL CITY
Festivals
26/08/2022 à 16:00
Jusqu'au
28/08/2022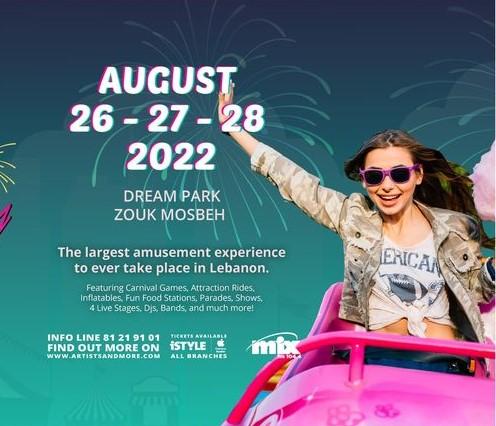 People of lebanon, buckle up to welcome the carnival city this summer on august 26-27-28, 2022 at dream park- zouk mosbeh. A major comeback and devine family journey aiming to revive beirut through a memorable festive ride.
The largest amusement destination to ever take place in town.
A fun fair experience for kids and families of all ages.
Feauturing exciting carnival games, attraction rides, inflatables, fun food stations, parades, 4 stages, unique shows, djs, bands and much more surprises.
An astonishing selection of entertainment including the world of magic, world of ebands, world of circus, and live streaming djs.
Parents we got you covered, enjoy our 18+ chill area serving alcoholic beverages as your kids enjoy getting carried away by giggles.
The ultimate ticket for the carnival city:

-general admission entry ticket
(includes access to the venue, shows, stages, and entertainment)
*attraction rides, games, f&b and all other facilities are to be paid at an additional cost seperately at the venue.
*f&b to be paid at an additional cost-seperately, at the venue.
*doors open from 4:00pm till 1:00am.
*children below 2 years are free of charge.
*every person accessing the event requires a ticket (parents, grandparents and helpers).
*each ticket excludes a $1 surcharge transaction fee.
*it is prohibited to enter any kind of f&b.
*taking a cab or carpooling to the event is highly recommended as there will be heavy traffic at the entrance.
It's time to re-live the sweetest family moments. Gather your kids, friends, and relatives to create lifetime memories to be cherished forever.
For more information contact +961 81 21 91 01