Pour ne rien manquer de l'actualité culturelle, abonnez-vous à notre newsletter
WELLNESS AND MENTAL HEALTH WEEK | THIRD EDITION
Atelier
24/04/2023 à 00:00
Jusqu'au
29/04/2023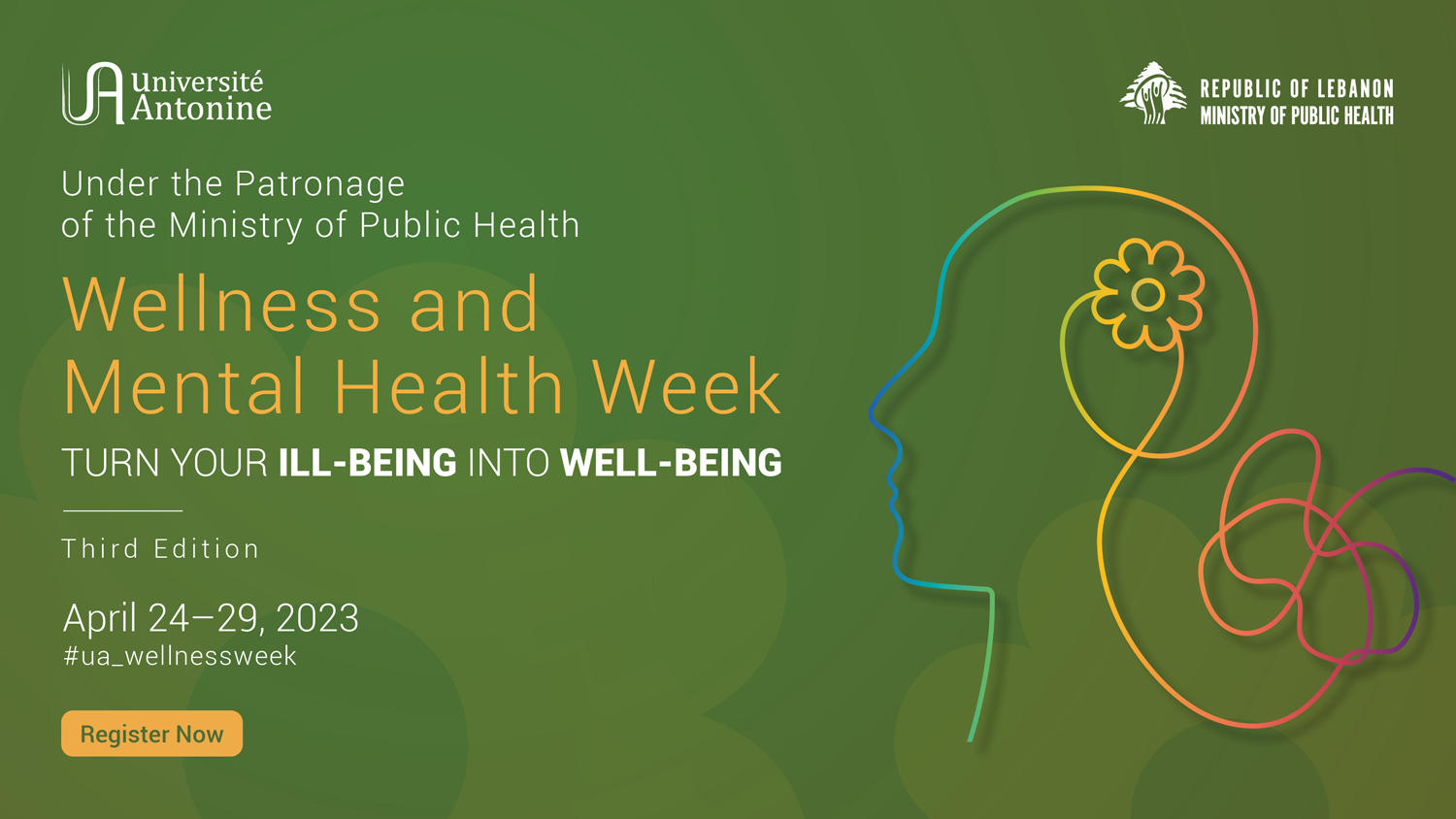 Turn Your Ill-being Into Well-being
As Antonine University (UA) strives to build a strong and thriving community, it seeks to provide personal growth seekers with a tangible experience through the multidimensional wellness framework. It is within this context that UA's Vice Rectorate for Integral Human Development (VRIHD), under the patronage of the Lebanese Ministry of Public Health (MOPH), is launching the third edition of the Wellness and Mental Health Week, themed Turn Your Ill-being Into Well-being.

This week-long event will include 20 on-campus and virtual workshops delivered in English, French, and Arabic and hosted by a group of prominent national and international experts from universities in Canada, the United Kingdom, Japan, the United States of America, Germany, and Lebanon, who will conduct daily sessions targeting the 8 wellness dimensions identified in the wellness wheel: physical, academic, emotional, spiritual, environmental, financial, occupational, and social.


Event Objectives
Increase mental health awareness and promote resilience to cope with mental health challenges
Explore the various dimensions of wellness and apply practical tools to improve one's overall quality of life and resilience at university, at home, and in the workplace
Encourage the internal community and the general public to enhance their well-being throughout the academic year, enabling them to become well-being leaders in their society
All workshops are free of charge.
Participants will receive a certificate of attendance.
Special prizes will be awarded to UA students.

For more information, contact us via wellness@ua.edu.lb or +961 5 927000 ext. 1018.
Lieu
Université antonine, Baabda
Adresse
PRIX
gratuit