Fil Info
10ème édition du « Choix Goncourt de l'Orient » : Le prix est décerné à « S'adapter » de Clara Dupond-Monod
Pour ne rien manquer de l'actualité culturelle, abonnez-vous à notre newsletter
Raouf Rifai
Expositions
EXPO
EVENTS
LIBAN
EVENTS IN LEBANON
ART
01/04/2021
Jusqu'au
30/06/2022
«My art's main subject is Humanity; it is nourished by the history of our civilization and our heritage. My work is a mirror reflecting the reality of our Middle Eastern society's transitions and evolution» -Raouf Rifai
Born in Lebanon in 1954, Raouf Rifai lives and works in Beirut. In 1982, he received a BA in Decorative Art at the Institute of Fine Arts in Beirut, Lebanon. In 1995, after receiving a PHD in Urbanism at La Sorbonne I University in Paris, France, and began teaching at the Department of Architecture and Design of the Lebanese University in Beirut, Lebanon.
Rifai has taken part in numerous Collective shows throughout Europe, United States, Middle East and Japan. He has also had more than thirty solo exhibitions since 1984, including his latest at Sana Gallery in Singapore. In 2010, he was awarded the first prize of the Sursock Museum's Salon d'Automne in Beirut, Lebanon. His artwork has also been successfully auctioned at Christie's Dubai.
Rifai's visual language combines abstract symbols with references to Middle Eastern cultural heritage such as the traditional "tarboosh", in very bright colours.
One of the recurrent themes in his work is that of the "Darwich", a simple man evolving in virtual or real spaces. Rifai's dervishes are as diverse and colourful as Middle-Eastern society itself, with their myriad of expressions, attitudes and emotions.
Pour en savoir plus, lire aussi LES DERVICHES SATIRIQUES DE RAOUF RIFAI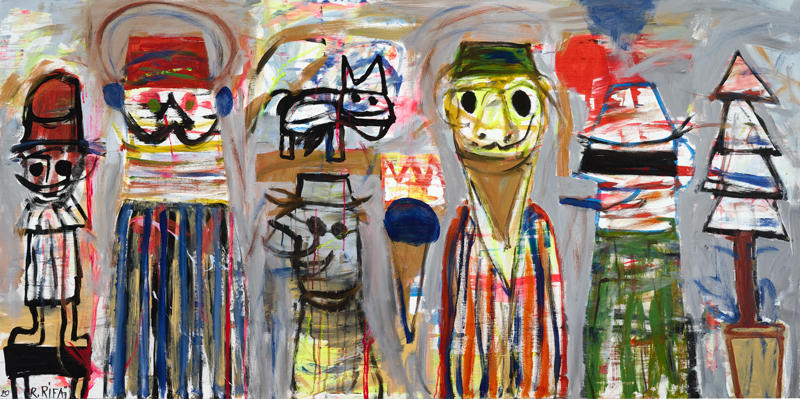 Lieu
Nadine Fayad Art Gallery
Adresse
Ashrafieh,Tabaris Chehadé St.